In 2022 Microsoft announced a number of changes that may affect Office 365 users. The changes include a price increase for commercial Microsoft 365 plans and updates to how Microsoft 365 is licensed through Microsoft Partners (CSP).
Microsoft have confirmed the new pricing for UK and European customers won't impact educational and non-profit plans.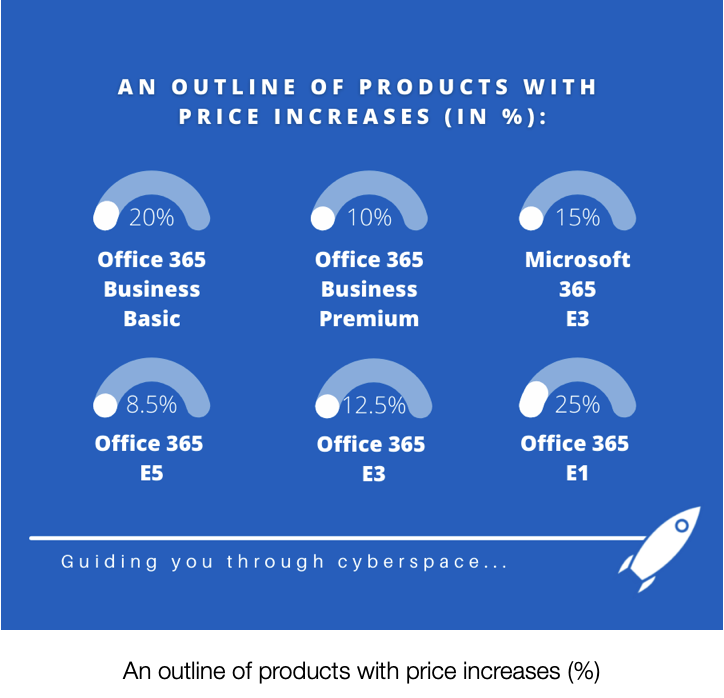 On 1st March 2022 the NCE (New Commerce Experience) came into effect. This replaced the older CSP licensing model and outlines the following new term commitments:
Long term customers will see the most competitive pricing, thanks to annual and 3-year term commitments. Short-term this will benefit from a 5% discount on increased SKUs and price protection for 12 months (Offer capped at 2,400 seats per customer tenancy. Promo Ends 30TH June 2022)
Monthly term commitments which give the flexibility to increase and decrease your licence count on a monthly basis will incur an further 20% price premium in addition to the annual and 3-year term commitments
NEW FEATURES TO THE CLOUD – WHAT TO EXPECT IN 2022
There are, however, some new features coming to the cloud in 2022 including:
Microsoft 365 Business and Enterprise users will see Visio basic and audio conferences added to their plans.
The Microsoft 365 Business Premium plan will also now include Windows Defender for Business (Anti-Virus).
WHAT DOES THIS MEAN FOR OUR CUSTOMERS?
We've agreed with our suppliers to price protect your current Office 365 licenses until June 2022. If there are no changes to your current subscription, we can extend this price protect until February 2023.
From February 2023 all Office 365 customers will have to move to the new license model (NCE) which includes the new pricing structure.
If from June 2022 there are changes to your current Office 365 subscription (increase/decrease of licenses) this will require that you move over to the new license model (NCE).
Any questions? Just get in touch with a member of the team who will be happy to help.